Kampot is the capital of the Kampot province in southwest Cambodia. The city is considered one of Cambodia's most important seaports, and the province has a 94-kilometer coastline.
The center of Kampot, unlike most Cambodian provincial capitals, is composed of many 19th-century French colonial architecture buildings and has a laid-back feel, as the riverside city is less developed than its bigger counterparts in Phnom Penh and Sihanoukville. In 2017, Kampot's Old Town was also designated a UNESCO World Heritage Site.
The Praek Tuek Chhu River makes Kamot a perfect riverside setting, in the shadow of the nearby Bokor Mountain, and it offers a pleasant and fresh environment, with sunset boat cruises being a popular activity. Despite its large resident population, it is a popular domestic tourist destination and seasonal hotspot.
The region is also known for producing high-quality Kampot pepper, which is highly regarded and exported worldwide. It is also famous for its Kampot fish sauce and durian, both of which are considered to be among the best in the world.
The river is undoubtedly the central focus of Kampot, but it is more than just a dining destination.
Boats can be chartered for fishing trips and visits to nearby coastal islands. Kayaking, paddle boarding, and kiteboarding are popular activities, with packages available for people of all ages and abilities.
In addition, every evening, a large number of boats gather along the riverfront promenade for special sunset cruises and cocktail happy hours.
How to Travel to Kampot
Most visitors travel directly from Phnom Penh to Kampot, though some may travel along the southern coast from Sihanoukville to Kampot. Both trips take about three hours.
Giant Ibis operates a direct night bus from Siem Reap to Kampot. It departs at 10 p.m. and arrives in Kampot at 7 a.m. The bus is extremely comfortable, and it is a sleeper coach.
When is the best time to visit Kampot?
The cool weather and dry season in Cambodia last from late October to early April, with December and January seeing the most visitors taking advantage of ideal and comfortable 25-35 °C weather conditions. The warmest months are May to September, which is also the wet season, when it can get hot and humid with heavy rain.
Where to stay in Kampot?
Kampot has a wide range of accommodation options, from riverside resorts on the outskirts of town to budget and mid-range centrally located hotels.
We recommend Two Moons Hotel, now known as The Moon Kampot Botique, which is located on the riverbank.
Two Moons is the ideal choice for a relaxing stay in a tranquil setting with a backdrop of river and mountain views, yet it is only minutes from the center of town. The hotel is near the main riverside street and the heart of Kampot province, but far enough away to enjoy the peace and tranquility of nature.
It's better equipped than most places, and the lovely pool is what makes it stand out. The rooms are clean and have a great view of the river as the sun sets. The Old Market and the main shops/restaurant area are about a meter away, but most of the time there's no need to go any further than over the road in the evening.
To make a reservation, contact Ms Narin at +85511246554. She is a wonderful young lady who is known for her hospitality and superior service.
Visit Bokor Hill Station| Preah Monivong Boker National Park
A trip from Kampot to Bokor Hill Station takes about an hour and can be arranged through a local operator or by hiring a driver or moto. Bokor Hill Station is a French colonial ghost town in Preah Monivong Boker National Park, which surrounds the city of Kampot. It was built as a holiday resort by the colonial French in the 1920s and abandoned during the Indochina War in the 1940s. The Khmer Rouge later abandoned it in the 1970s.
While in Kampot, visit Kep.
Kep is a sleepy and charming coastal region in Cambodia's south. The Gulf of Thailand is visible on the south side. Kep is not a bustling seaside town, but it is rich in history, tranquility, and breathtaking scenery.
Kep is quiet – but growing slowly as more visitors arrive each year – and is an ideal place to relax and enjoy a slower pace of life. The main public beach is a wide sandy cove that is popular with both tourists and locals, particularly on weekends when Phnom Penh weekenders arrive to the seaside.
Kep is easily accessible from Kampot. You can travel to Kep by renting a Moto for USD 7 per day. It's only 40 minutes from Kampot. Contact the hotel manager to make arrangements for Moto.
Countryside Delights and Pepper Plantations
The province is incredibly rich in agriculture, with exceptional soil ideal for growing delicious fruits and other treats, particularly the Kampot Pepper plantations.
Famous chefs such as Gordon Ramsay, Rick Stein, and the late Anthony Bourdain championed Kampot Pepper after it was granted geographical indication (GI) status a decade ago. Its distinct flavor has made it one of the most expensive peppers in the world, but expats pay a fraction of the local price.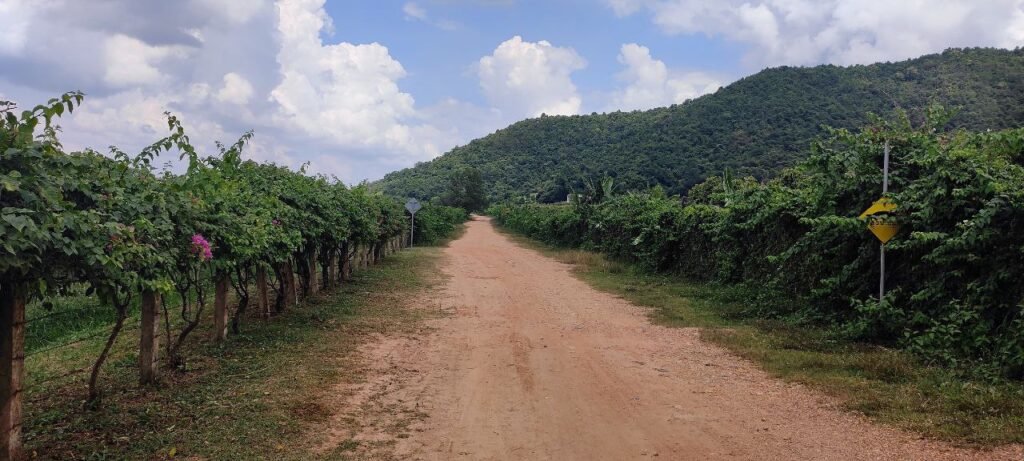 Plantation tours are a great way to spend a day in the country, with local guides available at places like La Plantation. There are many other rural delights to see in Kampot, such as lakes, nature trails, and the unique Phnom Chhngok Cave Temple, among others.
Conclusion
Kampot has a wide range of options. The vintage and antique architecture of Kampot offers an intriguing glimpse into the once-prosperous colonial power that operated here, now left to crumble in the wake of modern Cambodian life but eerily remaining in the background as a reminder of what once was and what could yet be.
The pepper plantations help to sustain a farming tradition beloved around the world while also supporting and training local communities in agriculture. The national parkland, rivers and lakes, beaches, and unspoiled unkempt nature that surrounds it all prove how appealing this southern Cambodian beauty is.