There are many villages located across from the main town of Battambang, which provides the best introduction to Cambodia's rural heartland. In some of these villages, we can see how "rice paper" is made traditionally. This word refers to the thin, transparent layer of pounded and steamed rice used to wrap fresh spring rolls rather than the paper used for artwork.
Because this province is known as the Kingdom's rice bowl, there is sufficient rice available to make rice paper in this region. Traditionally, Battambang residents used a steamer made of Cambodian buffalo skin to cook rice paper; today, however, only clothing steamers are used by the villagers, who smooth the rice bran over boiling water.
Only broken rice that has been soaked in clay pots is used to make rice paper. Then, the locals use a wet grinder to grind the rice into a paste. All that is left is a thick, white liquid, which is made from rice flour. This liquid is then poured onto a steamer, where the water is removed to create rice paper. Next, a bamboo handle is used to cool the wet rice paper. The rice paper is taken out and put on a bamboo tray to dry in the sun after cooling. Laying out rice paper circles to dry in the sun is the last step.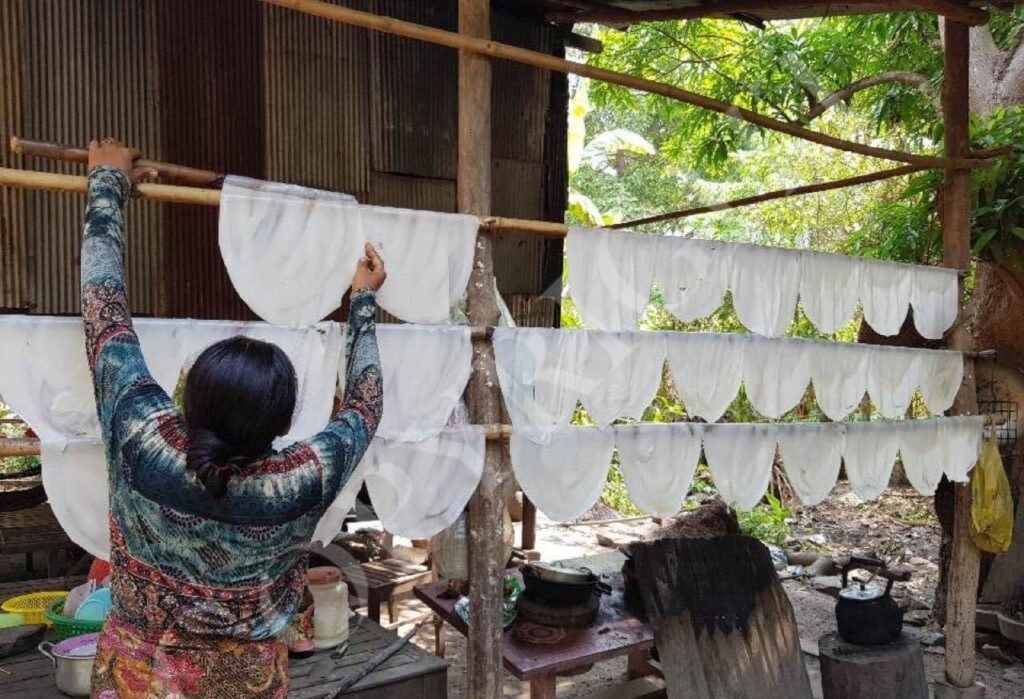 The rice paper will be dried on the bamboo airing tray in the sun until it gets crisp. The locals really depend on sunny weather since it is the only way to perfectly prepare rice paper for veggie rolls and fried spring rolls, two of Cambodia's favourite foods.
Nothing will be wasted, and the leftover rice paste is used to make noodles.
The majority of this thin edible paper's production is done in factories because of the high demand for it. A few families in Battambang continue to make a living by hand-crafting them.