The Made in Cambodia Market is a great place to discover the best craftsmanship. On a 420-square-meter plot of land on Oum Khun Street, to the west of Shinta Mani Angkor in Siem Reap, is the Made in Cambodia Market (MCM). It offers a shopping experience that is both friendly to customers and the environment, with 20 stalls selling high-quality goods set up close to each other to create a new community market experience.
The Made in Cambodia Market (MCM) is one of the best things to do in Siem Reap because of its vibrant colors, energetic and friendly sellers, and hidden treasures. The "Made in Cambodia Market" is an entirely distinct concept, and it is designed to satisfy both buyers and sellers.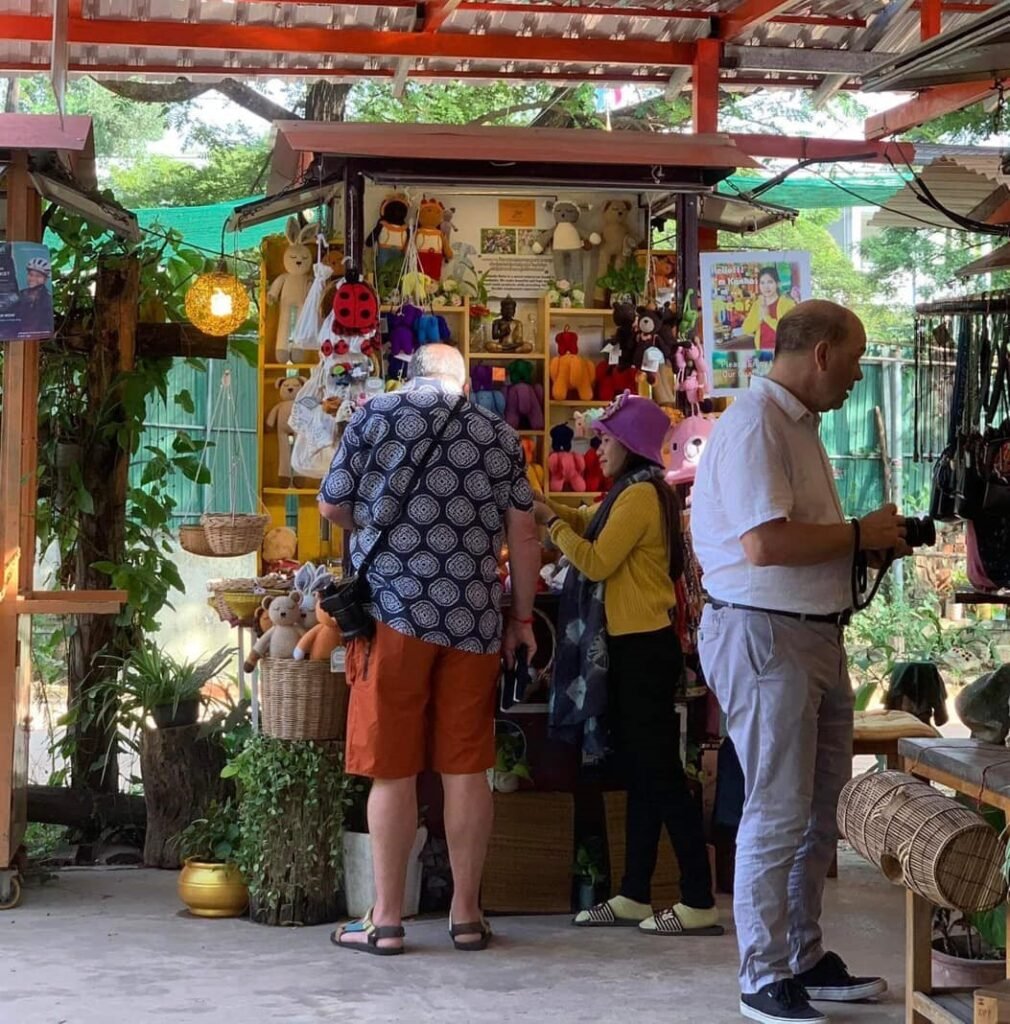 Scarves, clothing, and jewelry of all kinds; decorative items carved from wood, copper, and silver; leather goods; ceramics; gems and pearls from Pailin; food products such as Kampot pepper and palm-sugar ice cream; and even recycled items made from buffalo horns and rubber tires are all on display as part of Cambodia's rich cultural heritage.
The MCM was founded by Oun Savann and Christian De Boer in 2013. The market reopened on February 7, 2022, in its new location on Oum Khun Street, next to Angkor Hospital for Children.
Oun Savann and I have met up at a number of events, and most recently, I had the opportunity of sitting down with him to discuss the Made in Cambodia Market concept. Oun Savann is a Battambang native. He did his initial schooling at Phare Ponleu Selpak, Battambang and graduated from Build Bright University with a degree in Tourism and Hospitality. Savann is married and has two sons.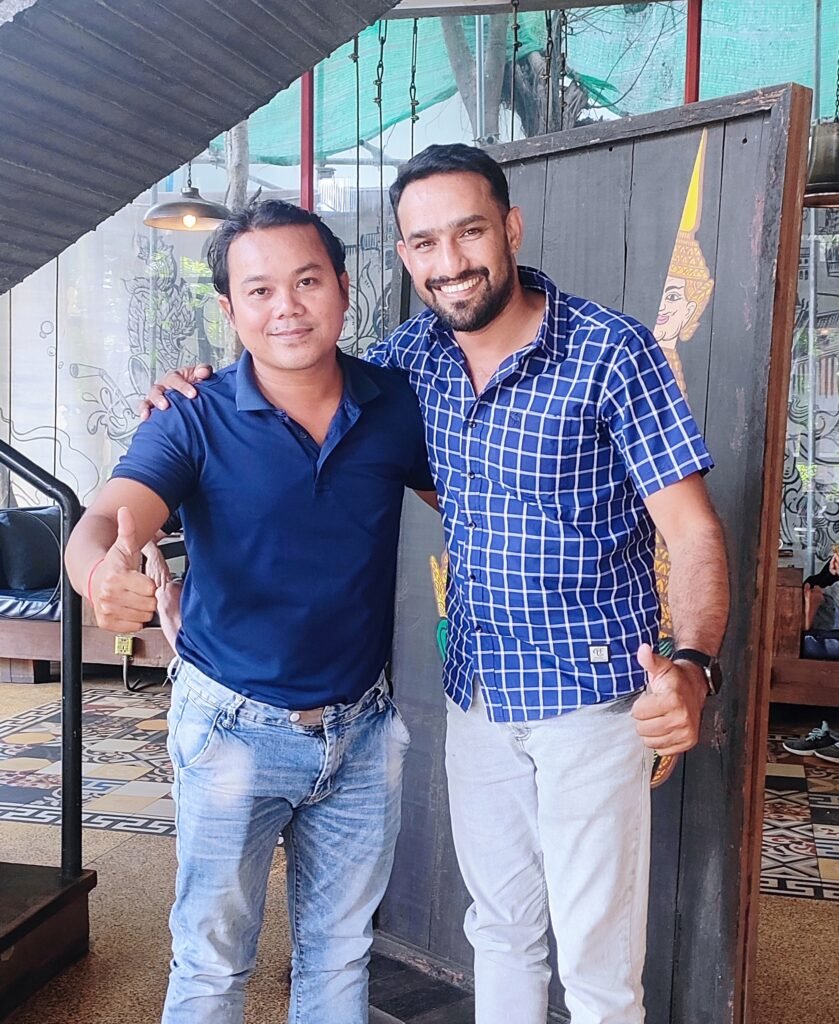 Oun Savann is a professional artist. He is an accomplished painter. In 2004, he relocated to Siem Reap in search of better opportunities. He began depicting Angkor Wat temples in his paintings, which he sold to tourists.
In 2006, Savann began working for a social cause, with disadvantaged people, and for community development. This provided him with self-satisfaction and motivation to do something useful for society. He claims, "I work as an artist." "My heart is always motivated to do good for others."
Oun Savann started his professional career as a photographer, curator, and visual arts instructor in 2008 after finishing his art studies at Phare Ponleu Selapak Art School.
Savann has taught visual art to children through a number of NGOs, the Cambodian Landmine Museum, and the Giant Puppet Project, which engages about 450 children yearly. He has also had exhibitions of his work both nationally and internationally to promote the Children Surgical Center in Phnom Penh and to raise funds for it.
Then, in 2013, Oun Savann and Christian De Boer initiated the Made in Cambodia Market.
"At the time, we thought about it and decided that we have seen a lot of markets that sell products from everywhere, so we thought it would be cool to have a market that only sells Cambodian products," he says.
The story of how they evolved and moved to where they are now is long, but the short version is that they started out in front of Shinta Mani Angkor with a Made in Cambodia fair once a month for the first year, twice a month for the second year, and then every weekend for the third year.
Then, in 2016, they moved to King's Road Angkor; now, they have moved again to Oum Khun Street, which is west of Shinta Mani Angkor, which is where they began.
Before moving into a permanent location, sellers used to sell in tents that they constantly had to set up, dismantle, and transport. When it became clear that raising the tent would take too much time and effort, they switched to using movable stalls, such as café carts, where sellers could set up shop immediately.
Savann does not charge any extra money to sellers other than minimum rent and utility bills. He supports them in marketing. The profits they are going to earn are for them. Rentals are the minimum for shops when they start. It increases a bit when they start earning from their businesses.
Made in Cambodia Market helps its sellers make a living, and it also helps the arts community. Organizations like the Tali Tno Association, Phare Circus, and traditional Khmer performers perform there.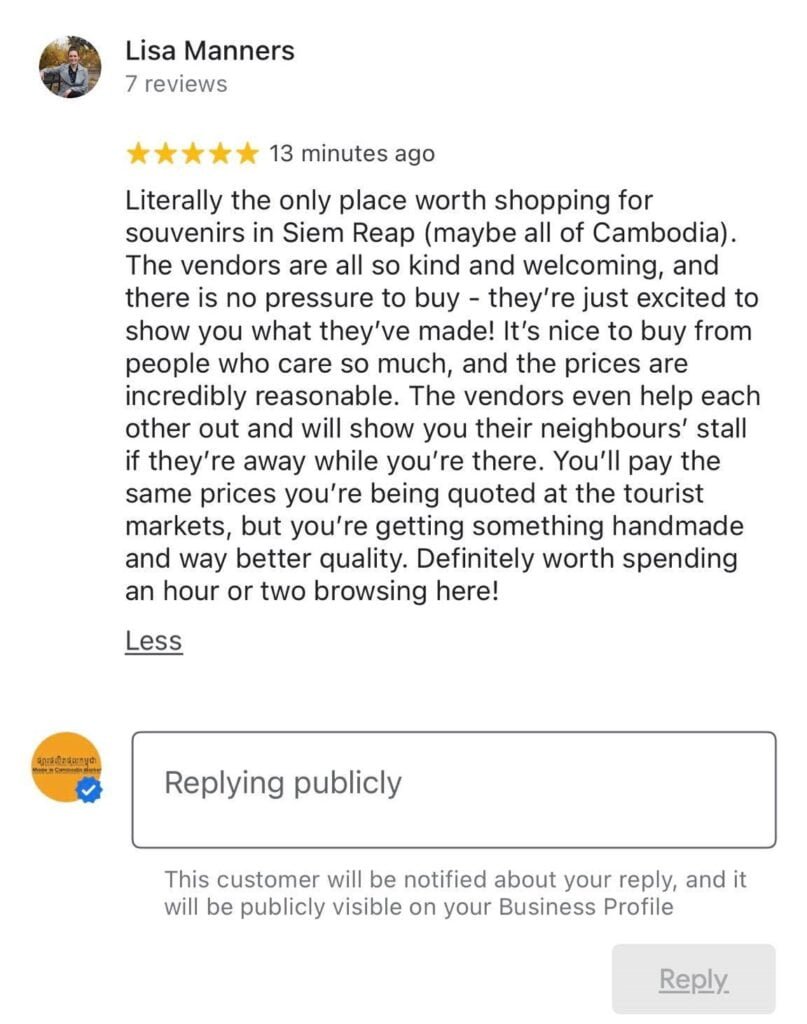 Savann says that before they sell at the market, all of the vendors are given a set of rules that they must follow. They also live as a community and a big family that respects each other. The rules are also good for tourists who shop at the market because they stop vendors from doing things like calling out loudly to guests or being pushy about selling products.
Since the market is curated, the products in each store are different, and they are all sold at fair prices or prices within a range that the market's managers have approved.
"I do not want an excess of similar products in our market. We want a variety of Cambodian-made products, and we don't want sellers selling identical products to directly compete with one another," he explains.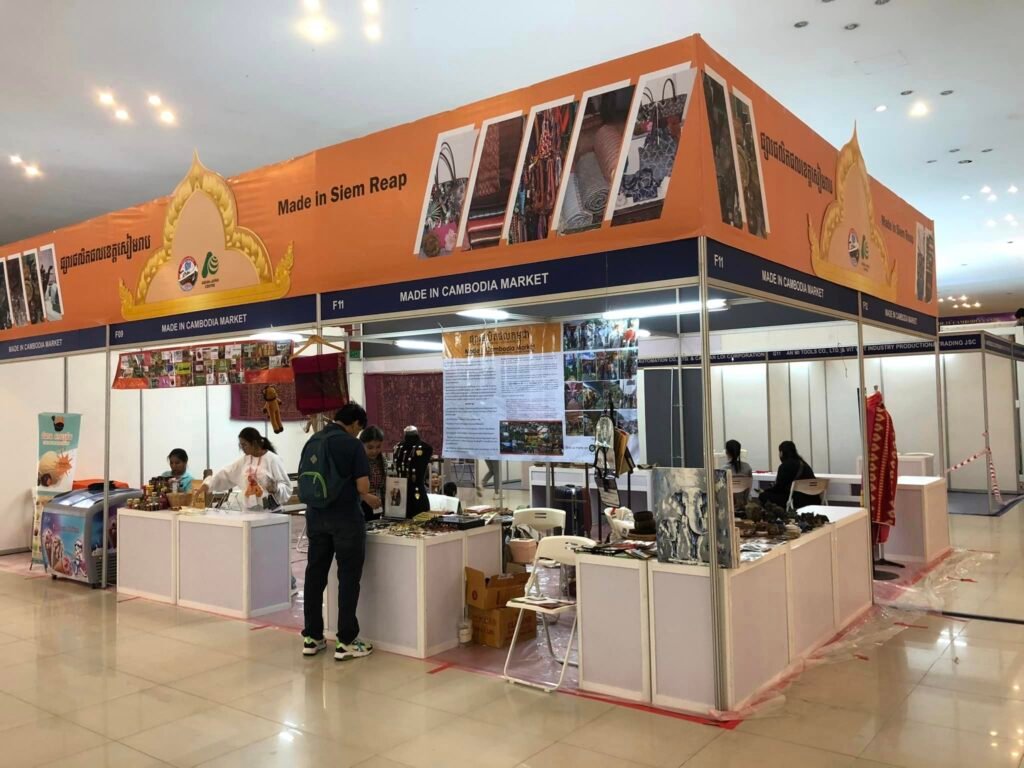 Savann is also proud of the Made in Cambodia Market shift toward environmentally responsible operations, which includes the elimination of all plastic packaging. It has created a lot of jobs and income for Khmer people, provided a marketplace for local artisans to sell their goods, and allowed producers to become dealers, shop employees to become shop owners, and shop owners to become designers.
It was a little difficult to withstand the pandemic. Due to a lack of customers, many vendors have closed their businesses. To maintain the market and build it in a new location, Savann had to use his own savings. He still rides his old scooter and has never considered making a profit from this venture. He wants to make life better for others by giving them a stable source of income.
Savann plans to launch the "Made in Cambodia Market" in various provinces. He also came up with the idea of a mobile cart, which he takes to places where tourists stay. He says, "I always tell my vendors that I believe in both the seller and the customer. Tourists cannot be fooled since they travel and are knowledgeable about products."
"The main reason the Made in Cambodia Market is successful is not because of what I do, but because of how friendly, honest, and informative our vendors are to tourists. No tricks, no deception. No cheap stuff, only good stuff."
Facebook Page of Made in cambodia Market: https://web.facebook.com/MadeinCambodiaMarket