When it comes to extraordinary travel destinations, Siem Reap is a gem that shines brightly. Located in the northwest of Cambodia, this city is known for its rich history, magnificent temples, and awe-inspiring natural beauty. Imagine waking up to the majestic silhouette of ancient temples, being surrounded by a rich cultural heritage, and experiencing warm hospitality every day. Siem Reap, the cultural capital of Cambodia, is not just a dream destination for travelers but also a hidden gem for those seeking the perfect place to live.
Let's dive into the reasons why Siem Reap is considered a truly beautiful place:
1. Temples That Take Your Breath Away
Siem Reap is famously recognized as the gateway to the captivating Angkor Archaeological Park, which is home to the iconic Angkor Wat. This UNESCO World Heritage site is the largest religious monument in the world and is a true architectural wonder. The intricate carvings, majestic towers, and peaceful surroundings make Angkor Wat a must-visit destination for any traveler seeking beauty and tranquility.
Besides Angkor Wat, Siem Reap hosts numerous other temples such as Ta Prohm and Bayon, each with its own unique charm. These ancient structures not only showcase the impressive architectural skills of the Khmer Empire but also provide a glimpse into the fascinating history of the region.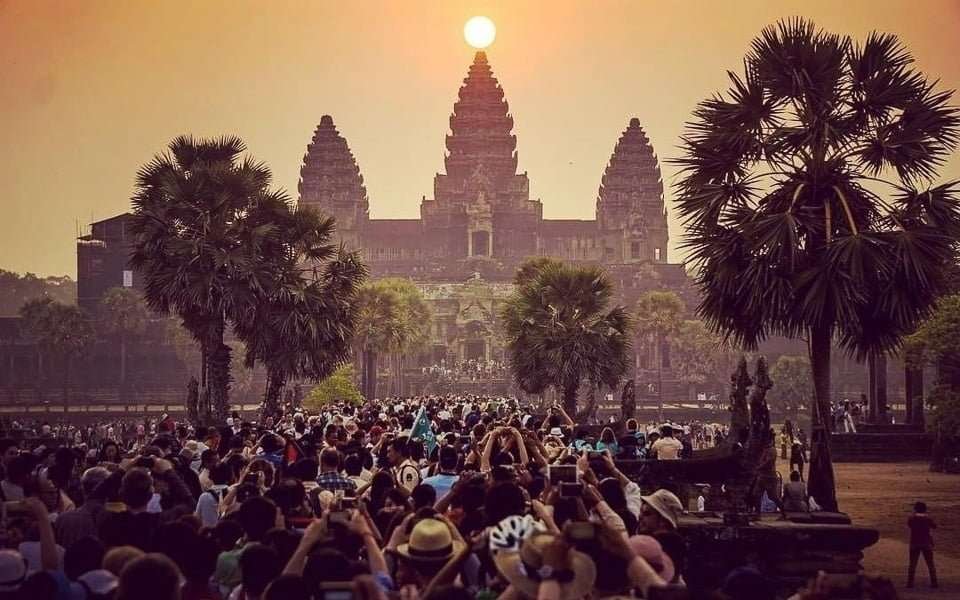 2. A Blend of Local Culture and Charm
Siem Reap is a city that has managed to preserve its rich heritage while embracing modernity. The Old Market, also known as Psar Chas, is a vibrant hub where locals and tourists come together. From fresh produce to colorful handicrafts, this market offers a mesmerizing glimpse into the local way of life. Exploring the narrow lanes and indulging in its aromatic street food is a delightful way to experience the local culture and charm that makes Siem Reap so captivating.
3. Natural Wonders
Beyond the ancient temples and bustling markets, Siem Reap is surrounded by breathtaking natural landscapes. The floating village of Kampong Phluk, located on the Tonle Sap Lake, is a tranquil destination that showcases the harmonious coexistence between humans and nature. Cruise through the stilted houses and witness the unique way of life, surrounded by the beauty of the mangrove forests.
Additionally, the Kulen Mountain Range, also known as Phnom Kulen, offers a retreat into nature. Explore its enchanting waterfalls, lush forests, and sacred sites while immersing yourself in the serene ambiance of this natural wonder.
4. Warm Hospitality
One of the greatest reasons why Siem Reap is beautiful lies in the warm hospitality of its people. Cambodian locals are known for their welcoming nature and friendly smiles. From tuk-tuk drivers to hotel staff, the locals embrace visitors with open arms, creating an atmosphere where you feel truly valued and appreciated.
5. The Mesmerizing Sunset
Lastly, one cannot miss the breathtaking sunsets that paint the skies of Siem Reap in vibrant hues. Head to the Angkor Archaeological Park, climb to a vantage point, and witness the sun's golden rays casting a magical glow over the ancient temples. The experience will leave you in awe as you witness nature and history blending into a masterpiece of beauty.
In conclusion, Siem Reap is undeniably a beautiful destination that captivates the hearts of travelers from all around the world. With its ancient temples, vibrant markets, natural wonders, warm hospitality, and unforgettable sunsets, this extraordinary city is a haven for those seeking beauty, serenity, and a deeper connection with history and nature.
Photo credit goes to the owners.