An old weak woman, crying at the top of her voice, rushed towards Buddha's monastery. She was crying and shouting the name of the wisest man in the village. In a moment, Buddha came to address her.
Old lady: I'm devastated, my entire life has been turned upside down! You must help me in some way.
Buddha: Tell me exactly what happened.
Old lady: My young child died as a result of an unexpected disease. He was the breadwinner of the family; now that I'm alone and old, why has this happened to me?
Buddha made her sit and eat food. Then he asked her what she wanted from him.
Old lady: I've heard you're enlightened. They say you are the Lord. I will only accept your abilities if you can bring my child back to life.
For a short moment, Buddha stayed silent. Then he spoke –
Buddha: I'll do as you say. I will bring your dead child back to life. But you must do something in return for me.
I'll do anything, said the elderly woman.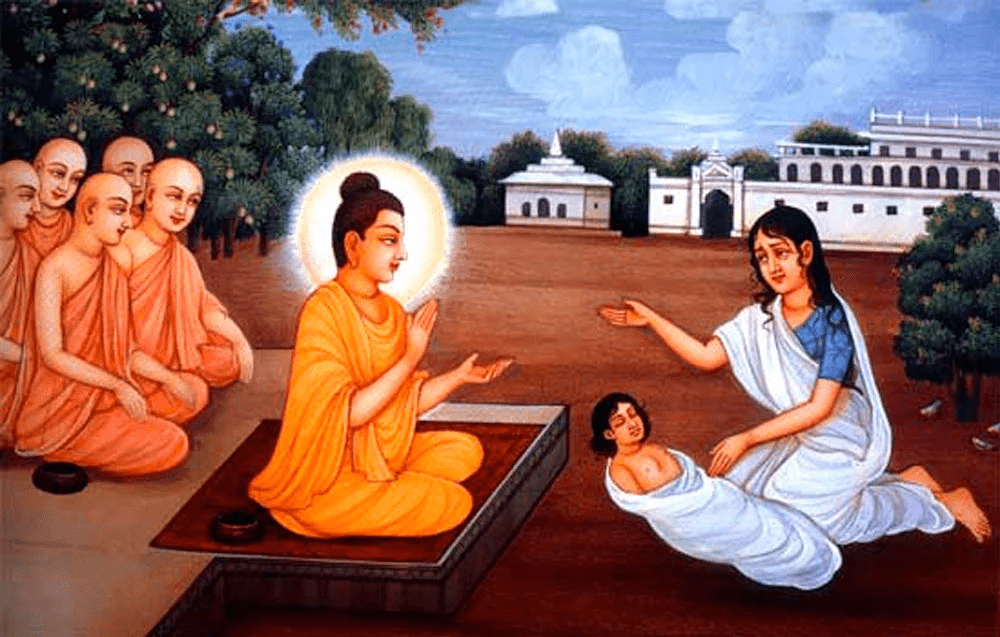 Buddha: I need a record of the number of deaths in the village, broken down per house. So, starting today, you will go visit each house and find one where no one has died up to now. Find me such a house, and I'll resuscitate your son. My disciples will take care of you until then.
She rushes out of the building. Every day, she visits homes and inquiries about any deaths that have occurred there. Every time, she is disappointed to hear a tragic story of a previous death that happened there. Months passed, and she has now visited every house, hearing many tragic stories and deaths. Finally, she returns to Buddha empty-handed.
Buddha asks her to sit and teaches her that death is an unavoidable part of life. That one should not stick to sorrow. It should not stop us from living. People die and thus are born on a daily basis. No matter what, one should go on living.
The woman comprehends the point. She accepts her child's death and decides to move on. However, she then asks Buddha one final question –
"Why didn't you share this knowledge with me when I first arrived?"
"When you came here, I saw you were troubled," Buddha says. You would not have been convinced by logic or wisdom. It's pointless to explain anything to you. You were suicidal and had no reason to live. So, I directed you to a teacher who was more senior to me – Experience. Seeing other people's pain humbled you. You now have a reason to live. You are now in a position to understand what I am saying."
Buddha gave the elderly woman a reason to live by assigning her work and nourishing her in exchange. As a result, a dead person is brought back to life.
This story is also known as "Kisa Gotami and the Mustard Seed."