Cambodia is popular for its temples. Angkor Wat is well known among tourists. It used to attract nearly 8 million tourists annually from different countries prior to COVID-19.
Apart from Angkorwat, what else does Cambodia offer to tourists? Interestingly, Cambodia is a land of diversity. It has many things to offer along with temple tourism.
Cambodians go out of their way to accommodate guests because they consider it a great honor. Nothing matches the hospitality of Cambodia. It's unfortunate that the majority of tourists who visit Cambodia stay in hotels and never try to experience real Cambodian hospitality.
Community-based tourism, which is a component of ecotourism, is very much alive and well in Cambodia in a lot of formats. The model has seen a number of organizations move to some of the low-income provinces of the Kingdom to train locals with the hospitality and business skills required to run a network of homestays in the village homes. Tourism is used as a tool to provide local communities with a sustainable form of income.
The idea behind a homestay is similar to that of a bed & breakfast. Visitors are either accommodated at the family's home or in nearby separate accommodations. Nowadays, the majority of homestays offer their visitors the same level of comfort as a good hotel.
This might include spending time with families for meals and touring the neighborhoods where they live and understanding how they function, as well as visiting nearby pagodas, schools, markets, and other attractions.
The most beautiful parts of Cambodia are found in the vast rural countryside. This is the real Cambodia, away from the bustle of the city and popular tourist destinations. From the mountainous Mondulkiri, where the indigenous tribes of the country reside, to the Cardamom Mountains' deep tropical jungle, to the riverfront province of Kratie, Banteay Srei near Siem Reap, and all the provinces in between, there is a load of things just waiting to be explored.
The beauty of staying in a rural homestay is that your bed will probably be a tiny mattress on a wooden floor that is covered by a mosquito net. The "shower" will be made up of a big ceramic jar of water and a jug to pour it over yourself, and the toilet will likely be an outside, hole-in-the-floor toilet with a bum gun. Moreover, you will get a chance to taste authentic Khmer food, which you won't find in restaurants.
Additionally, since rural life begins before sunrise, you won't need an alarm because the sound of pots and pans banging and the rooster's morning call will wake you up early.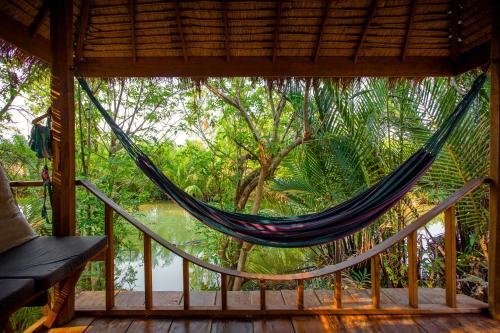 The locals are the best sources of information about a location because they are the ones who live there and know it best. There is information about certain locations that you won't find in brochures and guides. Allow your host to advise you where to go and what to do because, even online, the majority of information about exploring an area is repetitive because websites copy one another.
In addition, homestay proprietors make it their business to be knowledgeable about the area so they can show visitors scenic routes and short cuts, which makes exploring even easier.