The economy has recovered significantly since the COVID-19 crisis, but the funds raised by the Angkor Hospital for Children this year are still insufficient to support the process.
In order to raise funds for the Angkor Children's Hospital, the event team of Angkor Hospital for Children and the Committee for Cycling for Cambodia decided to organize the event "Cycling for Environment and Children's Health Year 8."
Around 750 people are expected to take part in the well-known charity event "Cycling for the Environment and Children's Health Year 8" on Sunday, August 14, 2022, from 5 am to 1 pm.
The venue will begin at Angkor (at a distance of 60 meters), travel north on Apsara Road, turn left to go over two Po bridges, and then turn right.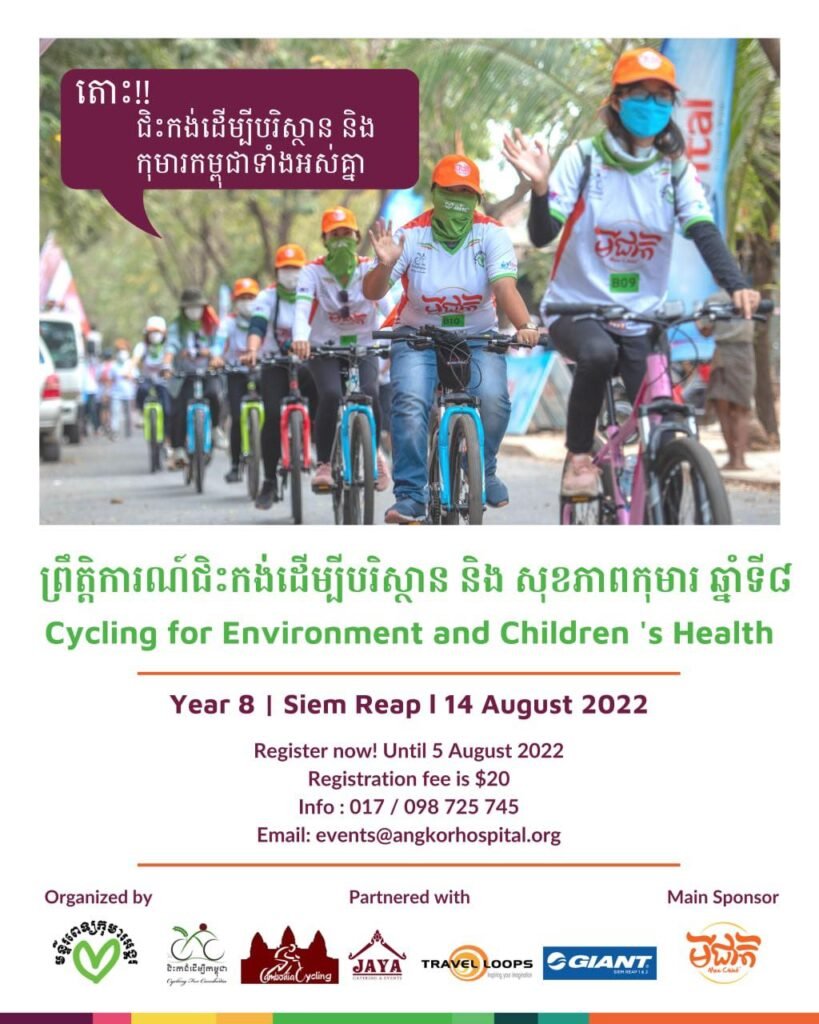 Riders will enter the Angkor Forest Park village, travel to the northeastern region of Angkor, ride to the rubber road, and then stop at the Angkor Thom Gate for a break.
The program will then conclude with a ride to Nokor Krao Primary School, passing by the Angkor Thom Temple, the Elephant Camp, and the North Angkor Thom Gate.
According to Mr. Hun Socheat, Chairman of the Cycling Committee for Cambodia, "the hospital suffers from a lack of funding to support the treatment of roughly 500 children every day, which is why I continue to take part in this cycling event. To help the hospital, this bicycle event has been arranged."
The participation fee is USD20 for Cambodian riders & expats. The fee is included mountain bike, T-shirt, snack & drink, 1 lunch. To register, please e-mail: info@cambodiacycling.com
Fund raising target: USD35,000
-Main Sponsor: USD10,000+
-Diamond Sponsor: USD5,000+
-Gold Sponsor: USD3,000 to USD5,000 (3 representatives can join free of charge)
Online: https://angkorhospital.org/donate
A report of the fund-raising cycling event, sponsorship and donations will be sent to all sponsors, donors, participants, and involved authorities. The co-organizers and Angkor Hospital for Children have agreed to transparency and accountability for all the sponsors, donors, participants, and the public.
Please come out in big numbers to support the 8th annual cycling event for the environment and the health of children, to show kindness, help save the lives of Cambodian children, and have fun together.
For additional information, call the Angkor Hospital for Children's Event Management Team or the Cycling Committee Cambodia, or visit the Facebook pages of Angkor Hospital for Children's Cycling for Cambodia-CFC.