Australian Prime Minister Anthony Albanese unveiled an interactive Indigenous art exhibit in Phnom Penh after a day of summits and one-on-one diplomatic talks.
At the ribbon cutting for the Walking Through a Songline pop-up exhibition, Mr Albanese was joined by Cambodian princess Her Royal Highness Norodom Arunrasmy, Senior Minister Ly Thuch and other members of the Cambodian government.
At the ceremony, Australian Prime Minister Anthony Albanese mentioned "the enduring connections between the two countries."
"This is my third trip to Cambodia, the first in 1987 and, of course, this trip in a very different capacity," he said, adding that "it has been a great honor to participate in what has been an extraordinarily successful event (ASEAN Summits)."
Her Royal Highness Norodom Arunrasmy attended the launch as a special guest.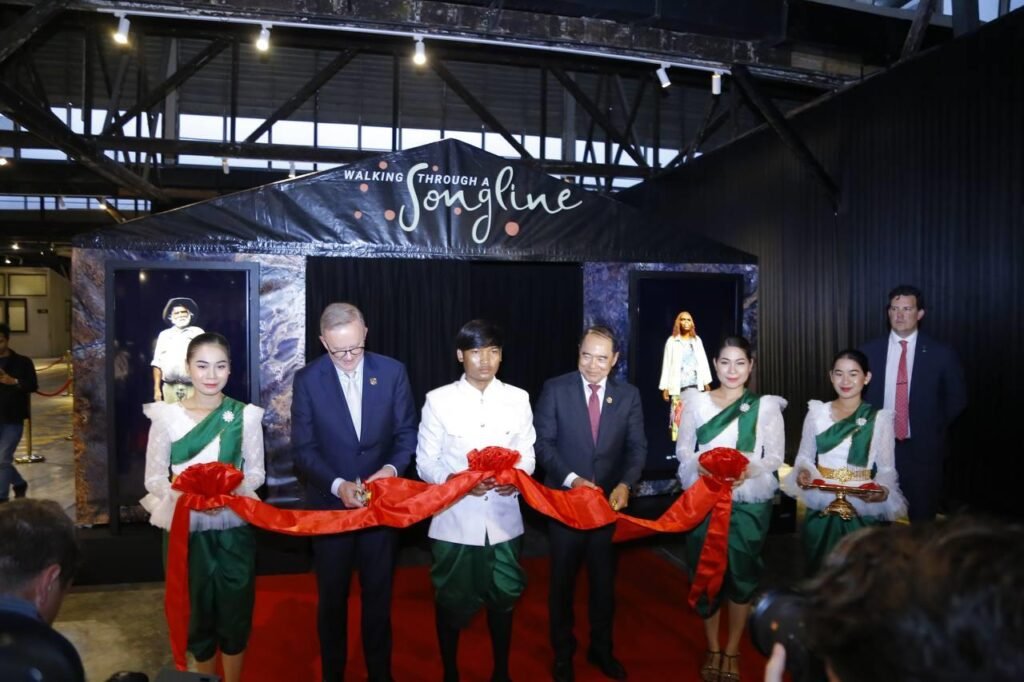 Senior Minister Ly Thuch, First Vice President of the Mines Authority, represented the Royal Government of Cambodia at the inauguration of the Songline Expo, as Cambodia and Australia celebrated the 70th anniversary of bilateral relations.
The Senior Minister stated that in recent years, Cambodia and Australia's friendly relations and cooperation have been diversified and strengthened in all areas for mutual benefit. On behalf of the Royal Government of Cambodia, the Senior Minister expressed his sincere gratitude to the Australian Government and people for their assistance in areas such as infrastructure, education, agriculture, water, health, governance, and demining.
Waking Through a Songline is a digital experience based on the National Museum of Australia's world-renowned songline tracking, which follows dreaming tracks along ancestral road maps through the Australian landscape and people.
The exhibition reinvents artworks from the deserts of the Martu, the Ngaanyatjarra, and the Anangu Pitjantjatjara Yankunytjatjara peoples of Australia, and an immersive tent tells the story of the Seven Sisters.
The Australian National Museum, in collaboration with Mosster Studio, is producing the exhibition, which has received ongoing support from Aboriginal Cultural Conservatives and scholars with knowledge of the story.
The exhibition was also attended by H.E SAMHENG Boros, Minister attached to the Prime Minister , Royal Government of Cambodia and Chairman of National Social Assistance Fund Board (NSAF) and Secretary of State at the Ministry of Social Affairs, Veterans and Youth Rehabilitation (MoSVY).
He told The Better Cambodia that his visit to the multimedia art space helped him better understand Australia's history and the power of a country's culture. He stated, "When we visit the Songline Exhibition, we can comprehend the ties between our two countries, our 70-year friendship, and the future."
This free 3D digital exhibition is happening at the Factory Phnom Penh from Monday, November 8 to Sunday, December 1.
Photos: Australian Embassy and Fresh News Cambodia