The Thomith Show is back! It is not just a talk show, but a platform to meet extraordinary people and everyday life heroes. This show gives us a chance to see the good side of everyone. Each episode will cover different topics relevant to people of all ages.
A talk show is a type of television or radio programme that is based on a conversation between two people. There are a few things that set a talk show apart from other kinds of TV shows. In a talk show, one person (or a group of people or guests) talks about different topics brought up by the host. This can be an interview or just a conversation about important social, political, or religious events and issues.
The word has been used to describe a wide range of formats, such as celebrity interviews, talks between elite peers, roundtable discussions, and talks between "ordinary people," usually in front of a studio audience.
The Thomith Show is Cambodia's prominent talk show featuring the most important guests in Cambodian society.
Mr. Thomith Chin hosts and discusses topics that are relevant to the general public every week on The Thomith Show. The show focuses on the guests' enthusiasm, expertise, and boldness while discussing a wide range of topics, from their own lives to the professional world. 
Its vision is to become a trusted and prominent talk show in South-East Asia. The Thomith Show benefits the community by delivering words of hope and inspiration, as well as covering topics that are important to common people.
With 22.8 K followers on Facebook, young adults aged 18-34,The Thomith Show wants to empower the audience by demonstrating that local talents have done such amazing work that they can easily understand and relate to the situation.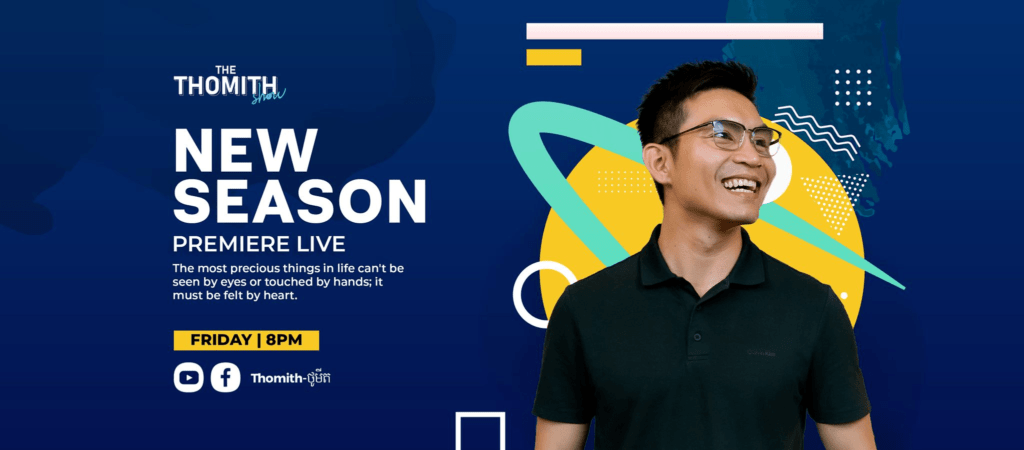 Looking for a perfect place to promote your brand? Look no further! The Thomith Show is the right place for you. You will be able to advertise your product or service with high reach and target audience. Both Season 1 and Season 2 received a lot of attention from the audience. Organic statistics include more than 600K views, and over 330K reach, with over 18K likes, and more than 3500 shares.
Contact Details: admin@iden.media or +855 98 468 868
Here is the first speaker of The Thomith Show season III. A very compelling story. https://www.facebook.com/Thomith.Chin/videos/609690714331333/
Read to know more about Mr Thomith Chin : http://thebettercambodia.com/thomith-chin-someone-who-has-dedicated-his-life-to-something-bigger-than-oneself