With an emphasis on the value of sports for people with disabilities
Written by, H.E Samheng Boros
Sports provide an opportunity for all people to improve not only their physical health, but also their mental well-being, providing both immediate and long-term health benefits. Disability sports and recreation activities, like other disability services, are increasingly becoming powerful tools for positive change in our society, and there are more options available.
Persons with disabilities frequently face societal barriers, and disability elicits negative perceptions and discrimination in many societies. Persons with disabilities are generally excluded from education, employment, and community life as a result of the stigma associated with disability, depriving them of opportunities essential to their social development, health, and well-being.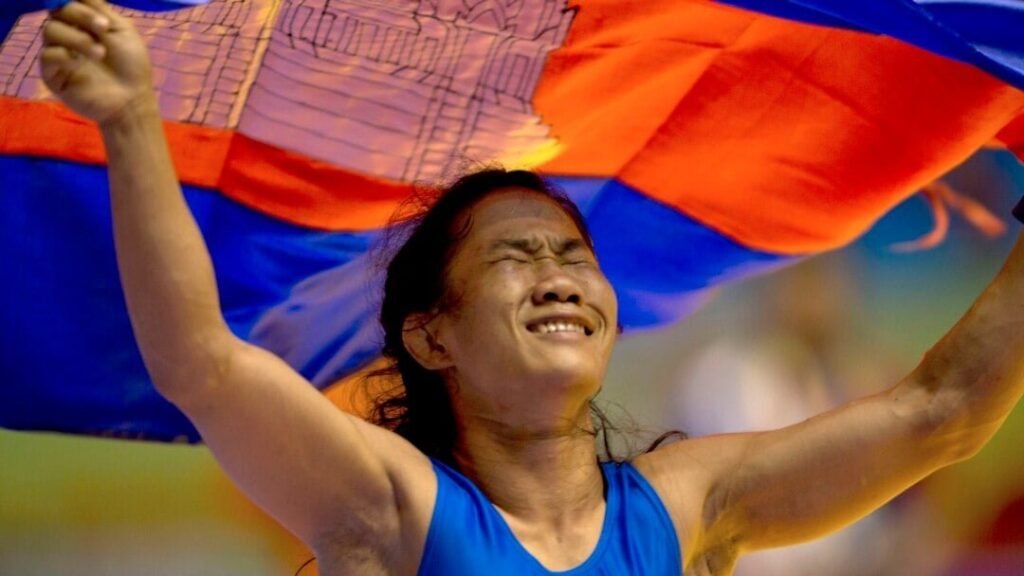 In some societies, people with disabilities are often considered dependent and incapable, fostering inactivity and causing people with physical disabilities to have limited mobility beyond the cause of their disability. Sport can help reduce disability stigma and discrimination by changing community attitudes toward people with disabilities by emphasizing their abilities and decreasing the tendency to see the disability rather than the person.
Sports allows people without disabilities to interact with people with disabilities in a positive way, forcing them to rethink their assumptions about what people with disabilities can and cannot do.
Sport as a Basic Human Right
The World Health Organization endorsed the concept that physical activity and sport can influence health and functional ability as a daily component of everyday life for all individuals, including those with disabilities.
The adoption of the Convention on the Rights of Persons with Disabilities was a critical step in ensuring that the rights of people with disabilities around the world were recognized and implemented. The Convention, which was adopted by the General Assembly in December 2006, was one of the quickest treaties ever negotiated at the United Nations.
In Cambodia, people with disabilities participate in team sports and socioeconomic assistance programs. The Royal Government of Cambodia is committed to achieving gender equality by allowing women with disabilities to compete and demonstrate their physical ability. Sport can help to reduce gender stereotypes and negative perceptions of people with disabilities.
Private social enterprises like Phare Circus, a well-known Cambodian entertainment brand, MEDHA Cambodia's first all-female drum troupe, who have captured the public's attention with their highly skilled performances of an art form traditionally reserved for men also employ disabled artists. Another esteemed organisation Epic Arts works with people of all abilities and backgrounds through our Inclusive Education, Community, and Social Enterprise Programs to change perceptions and attitudes on a personal and public level.
Cambodia and Paralympic Games
Cambodia made its Paralympic Games debut in the Summer Paralympics in Sydney in 2000, sending a men's volleyball team, and has competed in every Summer Paralympics since then.
At the 11th ASEAN Para Games in Solo, Indonesia, the Cambodian Paralympic team won 7 gold, 10 silver, and 11 bronze medals. It is an incredible achievement, given that the Kingdom will host the games for the first-time next year.
Cambodian athletes competed in 11 sports. 28 medals were won by the athletics, boccia, men's sitting volleyball, women's wheelchair basketball, table tennis, chess, and swimming teams.
During a recent meeting with Paralympic delegates at the Peace Palace, Prime Minister Hun Sen stated that his chairmanship of the National Paralympic Committee of Cambodia was aimed at promoting and encouraging people with disabilities, as well as providing hope to Cambodia's disabled people.
Motives for Participation and Persistence in Involvement
Many more studies are now being conducted to investigate the motivations for people with disabilities to participate in sports.
To promote sports among people with disabilities, they must be encouraged to join regular mainstream sports clubs in their own communities in order to gain access to coaching, sporting facilities, and the social interactions that club provides.
Sport can also help people with disabilities become physically and mentally stronger, reducing dependency and increasing independence. These skills can be transferred to new arenas such as employment and advocacy work, assisting in the development of self-sufficiency.
Sport has a profound impact on the person with a disability by empowering them to realise their full potential and advocate for social change. Sport allows people with disabilities to learn important social skills, gain independence, and become change agents. Sport teaches people how to communicate effectively, as well as the value of teamwork and cooperation, as well as respect for others.
Furthermore, by improving the inclusion and well-being of people with disabilities, sport can assist in achieving community development goals.
For example, sports-based opportunities can help achieve the goal of universal primary education by reducing stigma that prevents children with disabilities from attending school; promote gender equality by empowering women and girls with disabilities to acquire health information, skills, social networks, and leadership experience; and lead to increased employment and lower levels of poverty and hunger by reducing stigma and increasing self-confidence.
"When you fail, you learn a lot about yourself and come back stronger. There are no rules in life. Having an opportunity in life is important, but what you do with that opportunity defines you."
H.E Samheng Boros is Minister attached to the Prime Minister , Royal Government of Cambodia and Chairman of National Social Assistance Fund Board (NSAF) and Secretary of State at the Ministry of Social Affairs, Veterans and Youth Rehabilitation (MoSVY).