After visiting Angkor Wat temples in Siem Reap, tourists rush to watch the Phare Circus in the evening. It is a one-of-a-kind attraction in Siem Reap, which celebrated its tenth anniversary on February 8, 2023.
It has completely changed the concept of the usual circus. Phare, the Cambodian Circus aims to show a different experience through dancing and singing, balancing acts and comedy to provide a wide range of entertainment for all ages.
Phare Circus is an urban contemporary circus that has been playing in Siem Reap for over a decade. It has developed from being an amateur effort by a group of students and other interested people to being one of the main attractions on any tourist itinerary in Siem Reap.
The performances are fast-paced and full of skill, humor, and surprises. All proceeds go directly to supporting Phare's non-profit educational projects in the Cambodian countryside.
Performers at Phare use theater, music, dance, and modern circus arts to tell true Cambodian stories from the past, present, and future. The young circus performers will astound you with their energy, passion, excitement, and skill, making Phare Circus the most popular evening activity in Siem Reap.
Phare artists are students and graduates of Battambang's vocational training institution, Phare Ponleu Selpak (www.phareps.org).
Phare Ponleu Selpak means "The Brightness of the Arts." The organization was founded in 1994 by nine young men returning from a refugee camp after the Khmer Rouge period. During that time, they were greatly helped by an art teacher who used drawing lessons as therapy and wanted to share this new ability with the poor, socially deprived, and unhappy children of Battambang.
They established an art school, then a public school to provide free education, a music school, a theatrical school, and, for those who wanted more, a circus school.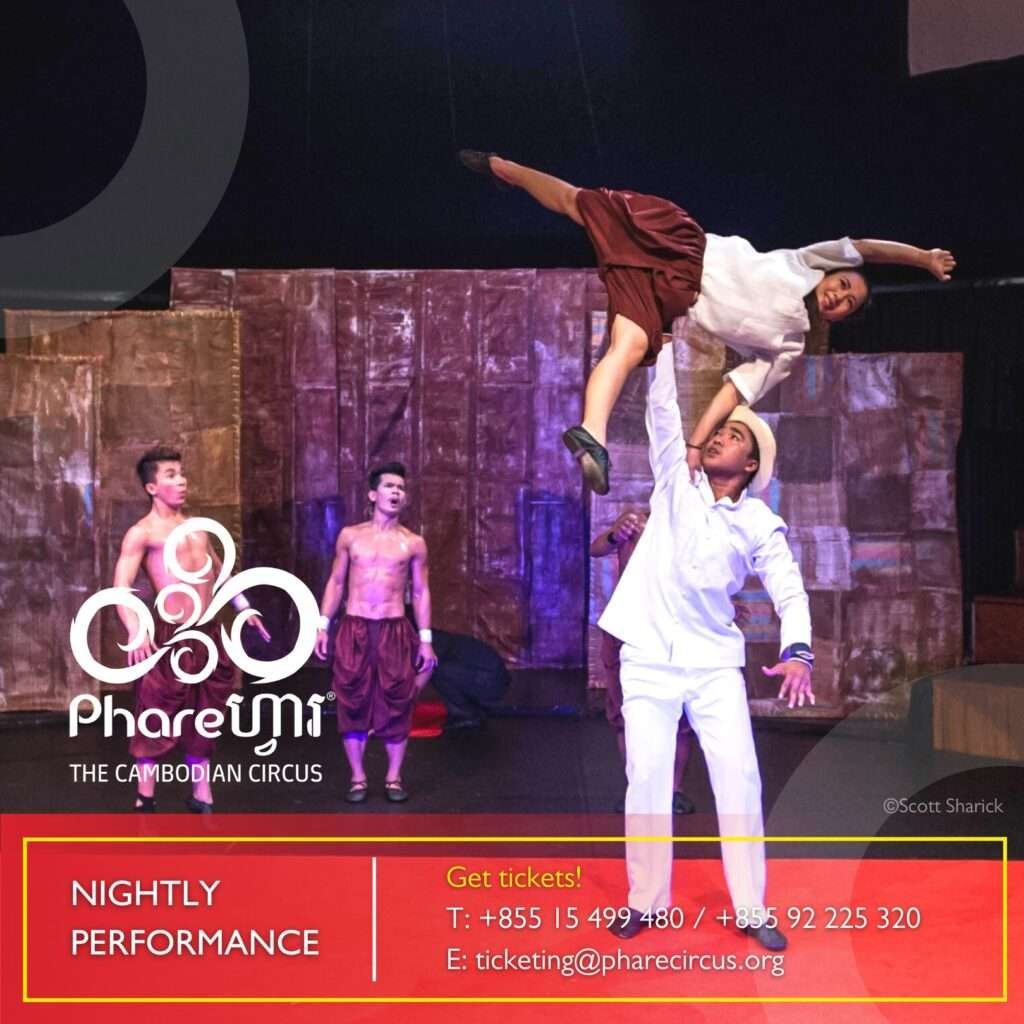 Today, around 1,200 students attend public school on a regular basis, while 500 attend alternative schools. Keeping Cambodian art alive gives the country's youth a real connection to its history. It also provides them with a sense of identity, boosts their self-esteem, and allows them to share their stories with the world.
The ten-year anniversary of the Phare Circus was marked by a large celebration attended by circus lovers. The joys and tears are common to see throughout the program. Performers showed their respect towards Gurus and performed a show to showcase their talent for the future of Phare Circus.
Dara Huot, Chief Executive Officer of Phare Performing Social Enterprise, told The Better Cambodia at the time that,
These 10 years at Phare Performing Social Enterprise and 30 years at our mother organization, Phare Ponleu Selpak have proven to us that "We can do it!" . We brought the world to Cambodia and made Cambodia appreciated, recognized, and respected on world stages. Given opportunities, though with limited resources, Phare artists are leading the Asian region in the contemporary circus scene. It feels good to lead. We lead thanks to Cambodia's rich artistic and cultural heritage, the artists' hard work, the teachers' and collaborators' training, Phare's development and innovative business model, and our relationships with our communities. We look forwards to the next 10 years of love, solidarity, joie de vivre on and off world stages to be one of Cambodia's prides!
I believe social responsibility begins with a strong, competitive company. Only a healthy enterprise can improve and enrich the lives of people and their communities
-Jack Welch
Photos: Scott Sharick, Cover Pic: Heng Chan Sithy (https://www.facebook.com/sithyfelix) and it was the winning photo for Cambodia in the Sony World Photography Awards.