According to the Ministry of Culture and Fine Arts, the title was awarded by a royal decree signed on February 4th.
Ek Butha, the Deputy Director General of Cultural Technology, said that only 9 Living Heritage citizens were eligible for the Royal Decree for a second time.
When a citizen is named a Living Heritage, the government pays them a salary every month. There is no age limit for getting a Living Heritage award.
He also said that these kinds of people are known for their contributions to the nation's intangible cultural heritage. He said that their skills and knowledge aren't usually taught in schools, but rather thrive in the cultural and social community.
Kin Yin, master of Kien Svay Krao Lakhon — a form of classical theatre; Chea Yuthea, master of metal engraving; Choeun Sophan, master of Khmer shadow theatre; and Nhoch Hoeun, master of indigenous traditional music — are among those honoured.
Narn Samai, master of indigenous traditional dance; Bin Vin, master of the traditional Chol Mlob ceremony; Mork Cheang, master of Khmer silk ceiling weaving; El Pech, master of Chapei Dang Veng — a two-string, long-neck guitar; and Eum Sruon, master of Lkhon Khol Wat Svay Andet received the title as well.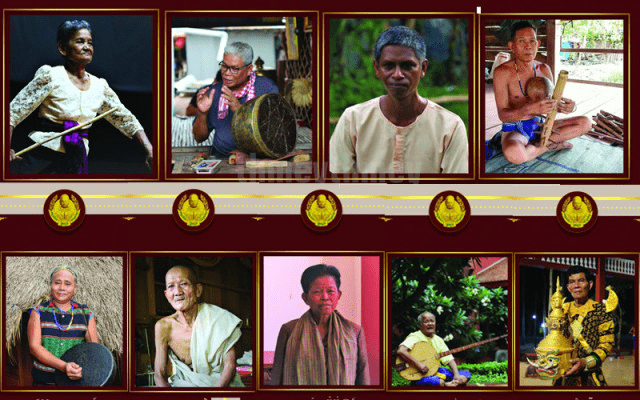 Master Chea Yuthea, 67, expressed appreciation and happiness at receiving the title, which recognised his skills as a metal engraving artist – a technique passed down from Khmer forefathers.
Master Yuthea stated that he has been a metal engraver since 1966-67. He did not learn to engrave at school, but rather from other masters in person while working together.
Even though starting as an engraving artist was merely a job at first, Master Yuthea grew to love the craft and began to devote more time to it. The Khmer Rouge regime hampered his work by exiling him from Phnom Penh.
Master Yuthea began working on the engravings again, one by one, in 1987-88.
He stated that he did not receive many orders because there were few tourists at the time.
Master Yuthea, who is 67 years old, hopes to pass on his abilities to the next generation, including his son and grandson, who are learning the skill from him.
The Culture Ministry awarded him and his son certificates honouring the skill, and both will continue to work.
According to Cambodia's Royal Decree on Living Heritage System, a living heritage refers to an individual or group of people with the highest level of knowledge, skills, talent, and techniques required for the creation of a selection of aspects of the people's cultural life and the existence of a national intangible cultural heritage.
The Royal Decree on "the Cambodian Living Heritage System," which was issued on February 16, 2010, is used to choose people who meet the requirements.
Princess Norodom Buppha Devi, a royal ballet dancer and former minister of culture, Em Theay, a Khmer classical dancer, and Chheng Phon, a well-known dramatist and artist, are just some of the people who have been nominated for the award in the past.
Source: Khmer Times