Do you know the huge potential of the beekeeping and honey businesses?
The most widely used natural sweetener in the world is honey, and the annual global trade in bee products is worth millions of dollars. Honey is used for so many different things around the world that the supply can hardly keep up with demand.
International Honey Bee Day was celebrated on the 20th of last month. While bees gather pollen and nectar for their survival, they provide one of the most important ecological services: pollination. Pollination by bees is crucial to our food security and ecosystem conservation.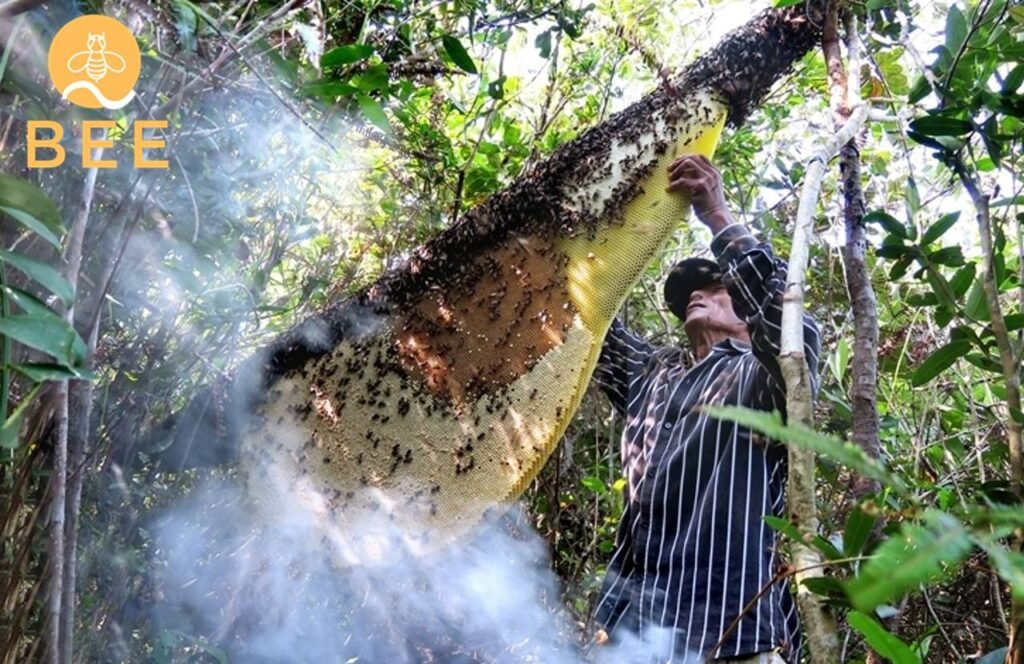 Man Rathea is an independent woman from Siem Reap who works with locals and beekeepers to sell their products through her social enterprise QBee. Rathea is the Co Founder of QBee.
QBee is a social enterprise with the mission of empowering Cambodian beekeepers by promoting superior quality honey production.
Man Rathea used to work at the Siem Reap night market, but in 2020 she made the decision to start her own business. She started studying about bees, beekeeping and honeys after meeting Eric Guerin, an international bee conservation and sustainable beekeeping expert, based in Cambodia.
Honey production in Cambodia comes from two distinct sectors: beekeeping and wild honey collection. Rathea supports both beekeepers and wild honey collectors provided that they adopt sustainable practices that respect the bees and their environment.
Rathea is in particular concerned about the conservation of Cambodian native honey bees and she promotes sustainable honey collection practices among wild honey collectors
In Cambodia, there are many distinct types of honey. Depending on the province and the flowers that are grown there, the taste and smell may differ.
Man Rathea sells Bee Pollen, Kapok Raw Honey, Acacia Raw Honey, Honey Cream, Coffee Raw Honey, Longan Raw Honey, and Wild Honey and a few other varieties.
QBee never compromises with quality. Man Rathea is very particular about it.
She explains to me the crystallization of honey; a natural phenomenon which concerns most honeys but which is very often interpreted by uninformed consumers as a sign of adulteration: "people often associate the presence of crystals with the addition of sugars in the honey while crystallization is at unlike an indicator of quality honey".
She tells me about the difficulties she encounters in overcoming the many false beliefs about honey that are so entrenched in popular consciousness. High-quality honey is quite hard to find on the market.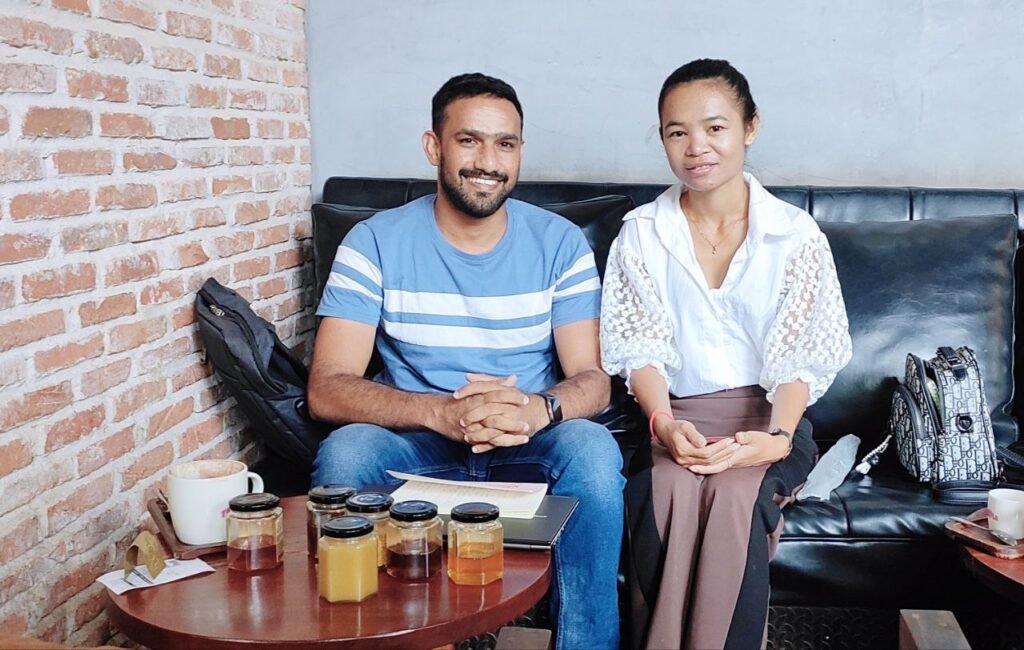 Qbee is a brand of premium honey from Cambodia.
QBee has partnered with Beyond Retail Business Cambodia (BRB), a global business services provider for Cambodia's retail and handicraft industries. Qbee products are available in several outlets of Siem Reap and Phnom Penh and Rathea often joins Cambodian product markets and fairs to promote her products and share her passion for bees and bee products and other shops as well.
If you are looking for premium quality Cambodian honey, please connect with Man Rathea. Her contact details are,
E mail: honeyathea@gmail.com
Telegram: +855 92 551 686