It can be very difficult to go more than a few feet in Southeast Asia's busiest tourist areas without being stopped by a driver who offers to take you where you're going.
Tuk-tuks are without a doubt the most well-known of the region's many unique types of transportation.
Tuk Tuks, the Khmer version of remorks, are common on the streets of the country's major cities in Cambodia.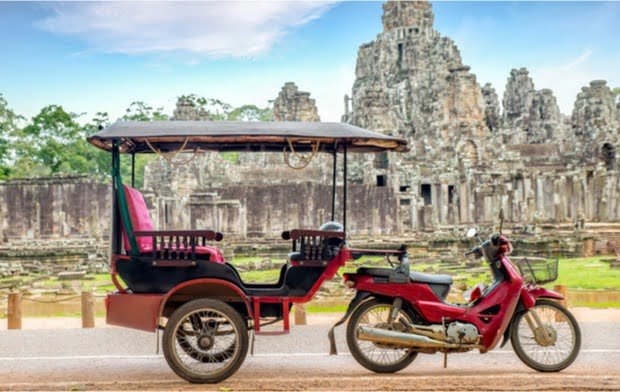 The remork, which is a real four-wheeled trailer pulled by a motorbike or motorcycle, resembles a luxury car more than its well-known counterpart, which is a three-wheeled vehicle. The vehicle's seats are quite soft and cozy. All the Khmer tuk-tuks have something in common: they are commonly driven by men.
The city of Siem Reap in northern Cambodia is home to the magnificent Angkor Temples and is home to the majority of tuk-tuks in the entire country.
Kim Sokleang is considered as Cambodia's first ever female Tuk Tuk driver.
I had the wonderful pleasure to meet Kim, who is thought to be the first female Tuk-Tuk driver in Cambodia. She is a strong, positive and self-made woman who inspires a lot of other people.
Kim is from a rural village like many Cambodians. She was raised in the central province of Kampong Cham, which is 350 kilometers from Siem Reap.
Kim had an abusive relationship, and when she decided to separate from her husband, she did not have anything to support her life. She had to raise two children.
Despite doing a variety of odd jobs, she was unable to provide for her family. With great bravery and effort, Kim decided to become the first female Tuk Tuk driver in Phnom Penh, the capital of Cambodia, in an industry that is still heavily dominated by men. She made the decision to get a driver's license and buy a motorcycle and a remork.
Kim proudly says, "Having my own transportation, I was able to take my sons to school and to move wherever I required." But in Phnom Penh, things did not go as planned. The city was not at all the popular tourist destination but, it is today, and the Cambodian people who used the tuk-tuks saw it merely as a man work.
She traveled to Siem Reap in 2014 with only 10000 riel in her pocket and decided to start a new life here.
Her friends helped her to buy a Tuk Tuk. A Canadian couple helped her by developing a website for her. Since then, she has started enjoying her job and living a happy life.
Kim works from sunrise to late at night. It shows that Cambodia is safe for women.
Kim, the Entrepreneur
"Siem Reap Tourist Remorque Driver Asscociation," formed by Kim, now employs mostly female tuk-tuk drivers and intends to grow that number.
Sring Meng, one of the female Tuk Tuk drivers who works with the association, says she used to be a cloth seller before but Kim inspired her to be a Tuk Tuk driver, and now she is able to earn more under Kim's guidance and she is happy.
Kim gave me a Krama as appreciation for highlighting Cambodia's positive aspects. This is the first present I've received for showcasing the positive side of Cambodia, and I'm pleased with it.
Kim's contact details:
Mobile: +855 96 6282 557
E mail: tuktukladyinsiemreap@gmail.com
Website: www.tuktuklady.com